"Have the courage to date. If you want to get to know someone, ask him or her to a cup of coffee or a movie."
Those words were Dean Sue's advice to the class of 2014 at last week's Sophomore Commencement as a way to avoid and overcome the sophomore "slump." Sadly, I find myself in a relationship slump as opposed to a sophomore slump, where I find her advice more applicable for me.
I'm a very calculated person. I don't like to make mistakes. I'm a math and science person, so I appreciate universal and proven truths, but I also understand the beauty of experimentation and error to reach a result governed by natural law. If my data is valid, I've only come to one conclusion in my dating and relationship life: I can't use science and math to predict my relationships. There is no formula that I can use. Instead, I'm stuck with taking risks and making mistakes, with the potential to learn from them. One thing comes to mind: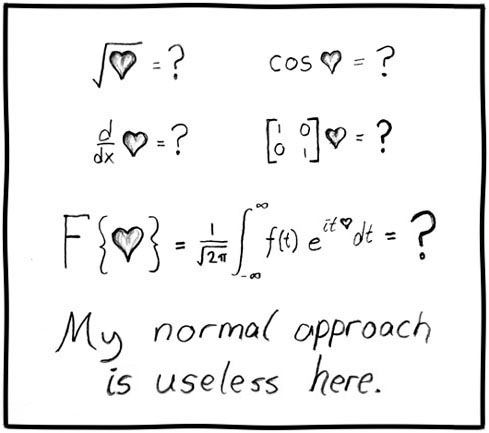 I may or may not have a shirt with this on it...
It's a fact when I say that the LGBT population here at Duke is 1) much smaller than the heterosexual community at Duke and 2) smaller than the LGBT communities at other universities in the world. Does that make it a bad thing? Absolutely not. Does it effectively make the dating pool smaller if only on-campus students are considered? (You must remember, I am an introvert, off-campus is not an option right now) Yes, it does. I would perform a small statistics problem here to prove my point, but this post is already far too nerdy.
I've been in a rough spot for the past four weeks of being back at Duke. Analyzing my life, I've realized that I frankly don't know anything about relationships. I'm fortunate enough to have my career paths well-defined, which I find distorts my feelings on how relationships work. I calculate forming relationships too much, just like I have worked to form my future goals for my life, and I easily get discouraged when one doesn't work out (I call these failures, as my life is governed by a Bernoulli trial (sarcasm, but not really)). That feeling of "failure" then and manifests into internalized struggle and fear that is perpetual. I blame myself. I get angry with myself. It's unhealthy.
I hope to serve as a non-example for you. The failures that I cite above are certainly not failures, they are experiences. Did I make mistakes while trying to start some of the relationships above? You're damn right I did. Do I regret them? Would I do it all over again if I had the chance? Absolutely. Sadly, I do not have that luxury since my Time Turner is in the shop right now. But to quote Oscar Wilde, "Experience is simply the name we give our mistakes." I hope you embrace this quote, as I am working to make it my mantra. (It's not going too well now)
It hurts to hurt. It hurts to be wrong. But if I never got back up after I fell down in any situation, I'd be permanently implanted in the ground. We have to be strong and embrace our pain as a way to grow. Things don't always work out the way we want them to, and that's okay. Sometimes, we have to let the world work the way it wants to before she's kind to us. It's certainly not the end. We will not be Forever Alone. No matter what relationships work or don't work, there will always be one person who is always there for you, and that's you. I love myself. And no matter what happens, I am proud of who I am, and no one can take that away from me. If you haven't had the chance, take some time to form a better relationship with yourself. To quote Mr. Wilde once more, "To love oneself is the beginning of a life-long romance." Get in touch with yourself, so that you can offer your partner or future partner all you have to offer.
Once you know yourself, then maybe you can take Dean Sue's advice. I'm all about clichés and I love caffeine, so I think that her recommendation is important. Take the risk. Because if it works, great! If not, it's never the end.
Now only if I could take this advice and use it myself...